After some trials and errors I finally figured out how to load the bobbin and the top thread.

What I did not realize at the beginning was that my manual is for two different style of sewing machines.

Mine is the last one that they talk about when giving directions.

I even read the manual last night like a "Big-ol Nerd".

It actually worked out being good because mine pretty much does everything by itself.

So, after learning how to do it the HARD way I got to learn how to do it the EASY way!

I usually make everything that should be easy harder, so today was pretty much the norm.
One of my favorite parts of my sewing machine is that it has "Speed Control".

I bet my mom wished that she had that on her machine when she was trying to teach me to sew.

All I had to do was put the machine on slow and even if I put "the pedal to the medal", I was still going "Myrtle Turtle" slow.Here is the finished product and the class product:
My Project
Class Project
Not bad for the first time.
I did learn that I need practice on cutting fabric in a straight line, and sewing in a straight line, and I think that I am going to get a lot of practice on the next project.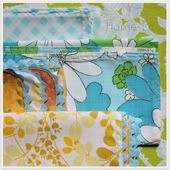 Class Project
I am really excited about this project because I currently do not have napkins,

I know I should be embarrassed.

I am going to be making 16 napkins, so it might take a while to finish them. Wish me luck!